---
Telephone calls:
If any Manual Telephone Charge entry can be done through here. Select the room Number and Enter the Telephone number and Duration with Charge.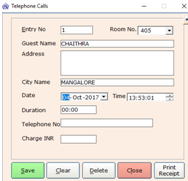 The Process of bill estimation is similar to the check-out. Here only thing it won't check-out the room. It gives the estimation figures
Enter the Room Number then press Show Details button. Check all the amount figures appeared on appropriate places. If wants the print out by clicking on Print Button.