---
The major part of this Sales Report includes Revenue, Expenses, and Material in hand and Bank balance. Consequently the format of the report varies according to the nature of the business.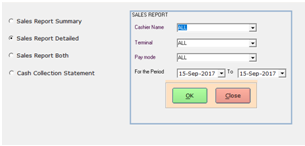 You have multiple options here to choose related reports on required dates. Press ok and close the screen.

In this report date, entry no, payment receipt, party name, room, payment mode, INR amount, amount, entry by, total details are shown.