---
Laundry is the washing of clothing and linens. Laundry processes are often done in a room. Laundry output is easily impacted by limited manpower and machine maintenance.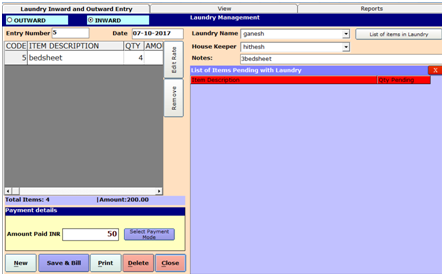 Laundry output entry format to enter the new Laundry issue details
Enter the Laundry Name and House Keeper name.
You can see the already given List of Items to the laundry.
And from the list add the items with quantity to the laundry.
Edit Rate button is used to edit the rate and quantity
And you can pay the advance Amount on issue of laundry.
Save the transaction and Close the screen.
You can view the saved transaction in View screen.


How to Add Laundry Outward