---
Purchase
Although the actual purchasing may be done by the hotel's purchasing department. When ordering items for the housekeeping department, it will be recorded here.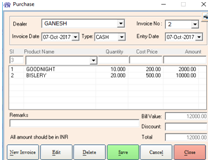 Good Inward Entry for a new invoice,
Select the Dealer or Supplier name. Enter the Invoice No., Date and Mode of payment. Add product name details. Save the entry.
How to record the Purchase Item