---
Introducing Hotel Management Software
Hotel Management Software From , One Software for Small And Large Scale Lodge/Hotels.
The hotel software is internationally markets integrated software solutions for the hospitality sector. The Uniqueness of the product comes with their Customization of the product as per Customer needs. It is a comprehensive software suite consisting of integrated modules for various aspects of hotel management. hotel software is designed to management Small and large Scale Hotels. The front desk features for hotel software would include reservations management (check-in/check-out, [The Guest Billing Method enables as PostPaid Billing and PrePaid Billing]. booking, room availability, and unoccupied rooms), guest profile management, rate management (rate/Tax rating), reporting capabilities, customer communication, night audit, daily ledger, and housekeeping management/maintenance. Back office features include accounts payable, asset accounting, and general inventory. Complete Solution Better Look, Easy To Manage, Secured and User Friendly. Better Integration of Modules/Reports, Low Establishment Cost, Easy to Learn/Teach. Multi User, Network Enabled Serves Multipurpose in Single Application.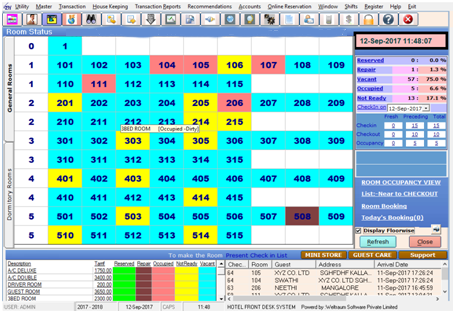 Modular Structure of Hotel Management Software
· Hotel status from main screen with Color code indication for Room status view with user defined color.
· Easy interface for Room Check in Check Out, Service Details Entry.
· Easy Room Reservation, Block/Unblock Rooms, View and Cancellation facility,
· Multi Room Check in,Room Booking,Hall Booking, Generate Booking Calendars
· Easy user interface for Add/Edit/Delete Room/Room Category Details.
· Guest Address Book.
· Checkout Bill printing with Preprinted stationary/ Normal Paper.
· Room Transfer.
· Enabled for Lesserjet/InkJet/DotMatrix Printer For Printing
· Full Network Enabled Application.
· Strong User Management, Privileges
· Easy to Configure Software.
· Provision for Service Charge, Extra bed charge, Telephone Charges, Taxable amount entries.
· Guest database with advance search, export & import facility
· Flexible Taxation and Service Tax provisions
· Transaction Reports
· Night audit Reports, Chart view,Shift Report, Cashier Report
· Daily/monthly Checkin-Checkout Reports
· Daily Collection register
· Availability Summary & Stay Information Grid.
· Full Fledged House keeping with Laundry Issue/Return Entries and Reports
· Stock Purchases, Floor/Room Stock Entry/Stock Removals, Room maintenance, Service Entry and Reports
· Ledger Creation/Subledger Creation, Voucher Entries
· Daybook, Ledger Reports, Trail Balance, Balance Sheet
· Customized Features/Reports on demand
· Charts for better representation of data .
· Features/Reports can be customize on certain level .
· Summary reports for the exact picture of the property as and when required.
· Print/View / Exportable /Searchable reports.
· Shift wise Reports, Cashier Reports,
· Cash register,
· Sales report,
· Floor wise room status view customization.