---
Data export->Busy accounting software
Busy Software is application software that records and processes business accounting transactions within functional modules such as Financial Accounting Inventory Management, Sales / Purchase Quotations, Sales / Purchase Order Processing, GST / VAT Reports , Service Tax & TDS.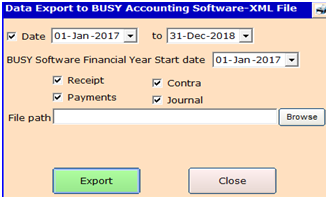 This is an entry model for data export to Busy accounting software.
Here, we have to fill the exact period, mention the date the transaction to be exported.
Financial starting date of the transaction
Stroke the voucher type that is to be exported.
Mention the exact file path.
Later, press export button.
Close button is to exit this model.