---
Hall booking :
The Hall Booking is made very much easy ever. The Simple Screen for Hall booking makes you easy booking entry, Adding Multiple rental Components. Food/Catering Menu Items accepted multiple mode of payment. Flexible Search and Reporting options. The Booking calendar is Show you the picture of Future events in One Screen.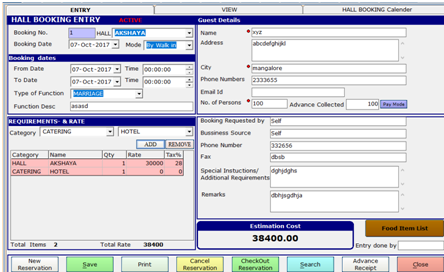 Creating new Reservation: Before Proceeding Reservation entry you should define the Hall in Hall Master. Select the Hall from list. Enter the Date of event and Timings. Select or Type Function Type. Enter Booking Person Details, Advance paid amount, Number of person's etc.. Enter Additional Details as if required.
Requirement &rate: You can Enter or Select the Rental Components such as Hall Rental, Catering Arrangements, Sounds & Lighting's, Decoration and any other rental Requirement. Catering Food/Menu Item Creation: once you add Catering in to the list you will get once more Button Named Food Item List. Click to the Food Item List to add Menu items requirements.