---
Room Check-in
What is Check- in Entry?
When the Guest is arrived to hotel, we need to ask the required room, there Name, address and Contact Details. After the Collecting their information we feed it in System, for feed the information of Guest and their stay Details we are using Chicken Entry Module.
How to Enter Check in Entry?
Options available for make a Check in entry.
1) Right Click on Vacant Room in Room Status Screen and Select Check in
2) Click on Main Screen Shortcut Icon bar,
3) Use Transaction->Room Check in menu
In Check in Screen you have option to feed the Guest Detail and Room Details. Fill the Guest details, Select the nationality, No of persons , Advance collected, Purpose of visit, Number of rooms, If any extra persons the enter the Number of extra persons.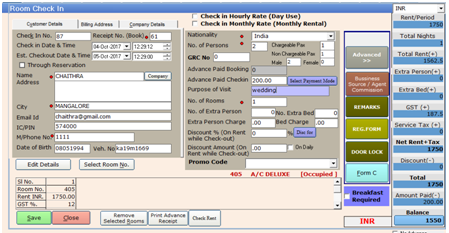 Can apply Discount for the respective room rent, mention the % of discounts.
Fill the information of the guest in customer details like name, address city etc,
You change billing address for some other name in billing address.
You will find a company option; it is related to party master
Select payment mode: select the mode on payments on which guest would like make a payment.
Disc For: The Discount reason you can define here or left it blank.
Edit Tariff: The rent rate/Tax Rate can be altered as if required.
Advanced: The Menu is to capture additional Guest Details. This is the address book where it is designed to Capture All Guest details along with Photo, ID Scanned copy etc.
" • "This symbol indicates compulsory information which is to be filled by the user.
Remarks: The alert or Reminders provided to pop up at the time of Check-out.
Door Lock: this button only appears if the Software is enabled door lock integration. The Door Lock Module is designed to Issue and return Guest Cards.
Reg Form: The Printable form with Guest details Room and rent information's.
How to Change Room Tariff /Category?
The guest may check-in the room by party master, it will be selected b company details, and the details are viewed by company details. Here we can change the room category as shown below,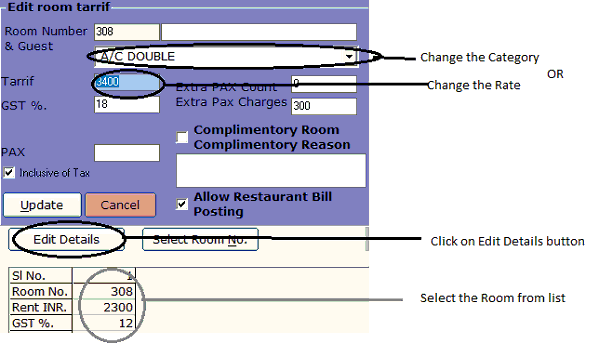 How to solve "Number of Person and Room wise PAX are not equal" error?
Select the room number and press edit details, and then correct the PAX that equals to number of person that you mentioned already in the check-in screen.
What is Disc for and on Daily Option in Discount Field?
Disc for is the enter screen for add the discount given reasons. Ex: discount for regular guest or management contacts.
On Daily is an option which will consider the discount amount for number days guest stayed.
For Example a guest allowed discount amount of INR 100. Then if on daily option is checked, and guest stayed for 3 days. Total discount becomes 100X3=300. Or on daily option is unchecked then for 3 days discount will be 100 only.
How to add Multiple Room into Single Check -in?
When you enter the check-in screen, alter the room number for required room number demanded by the guest and select room no. button, it will show you list of room numbers, select the room number which you want add from the list.
How to remove a room from selected list and add another?
Select the room number that you have to remove and press remove selected room button. And to add another room, press select room no. button, it will show you list of room numbers, and then choose room number from the list.
What is Chargeable and Non Chargeable PAX?
The hotel charge rent for only chargeable PAX i.e., only for adults, not for non chargeable PAX.
For example a family of 3 members with 2 adult and1 child occupied a single room, the hotel will charge rent for only adults not for the child. The chargeable PAX will be 2 and non chargeable PAX is 1.
Non chargeable PAX is considered as children.
What is Promo Code?
A promo code is a discount coupon offered by hotel. This entitles you for additional value/discounts/cash returns. From time to time we run campaigns and contests for our loyal guest to get promo codes.
How to Enter Additional Advance?
You can collect additional advances after check-in using Transaction-> Rent advance entry
How to Take Advance Receipt print on Check-in Screen?
Once Advance Amount is entered in Advance on check-in, On Clicking on save button Advance receipt prints. For printing Advance receipt automatically, you must have to enable Advance Receipt Printing under Utility->Application Options->Company options.
You can also print Advance Receipt by clicking on Print Advance Receipt button.
What is Form C?
Generally Form C or From F are used fill the details of Foreign Guest. When a foreign Guest is arrived to the hotel on Check- in, we also need to collect their travel details and other information's.
We can capture Passport No., Date of Issue, Place of Issue, Nationality, Came from, purpose of visit, duration time stay in India, duration time stay in hotel, Date of arrival in hotel and time etc,
We can provide this report for Police Commissioner Office if in case of any inquiry.
How do we Capture Guest Photo and ID Scanned Copy?
For securities purpose we have to capture the guest photo and id records in our software.
In our software we can capture the photo or attach the scanned id proof using the interface address book. In check-in screen click on Advanced button to capture the guest details or you can find from Utility-> Address Book .
How to Take Guest Registration Print?
You can find a register form button in check-in screen. Fill the information of the guest and press that button.
How to do Door Lock Encoding?
Door lock is encoded by the method transaction-> Manage door lock
How we can accept multiple payment Methods on Advance?
We can accept multiple payment modes by select payment mode option
What is Check in Hourly Rate?
This is applicable only if the Room is allotted in hourly basis. The amount of money that is charged for every hour occupied. You pay a fixed or hourly rate for the advisers' time rather than paying for the whole day charges.
What is Check in Monthly Rate?
This is applicable only if the Room is allotted in monthly basis. Monthly rate will be applicable for guest who stays for the long time for any business purposes or functions etc.
What is "Breakfast required" Option?
If any guest requires breakfast, then we have made a tick mark on breakfast option while check-in. If your hotel includes breakfast with the price of your room, they may call is a complimentary breakfast.
Where to Capture Guest GSTIN and GST Type in case of Tax type is GST?
You can find a company detail form in check-in screen there you can add further guest details.
Where do we add Guest name/Staff Name in case of Group or Company Check in?
We can add name of guest or staff in edit detail option.
How can we handle Business Agent Commissions?
Business Sources/Commission agents: The Module is to capture the details of Business Source or Customer referral details. There is a Commission entry is provided for Enter the Amount is paid or Payable to the agents.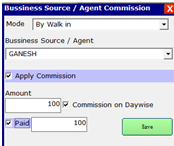 What is Complimentary Room and Complementary Reason?
One or more complimentary rooms provided to a group of hotel guests, based on the number of paid rooms taken by the group. Complimentary room is given for the guest with his assistant (i.e., for the driver)

Why the option Allow Restaurant Bill Posting?
The guest orders the food from restaurant; the hotel has to pay the bill amount to restaurant which is paid by the guest. For this transaction the application allow restaurant bill posting option.
Save: - if you have finished every about instructions completely done, then press save
Close: close the screen


How to Check In the Room