---
Account Statement
Account statement is a summary of financial transactions which have occurred over a given period on a bank account held by a person or business with a financial institution.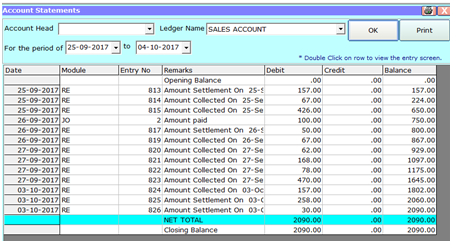 An account statement is a periodic summary of account activity with a beginning date and an ending date. The most commonly known are checking account statements, usually provided monthly, and brokerage account statements, which are provided monthly or quarterly. Monthly credit card bills are also considered account statements.

Account Head: - Here select the head of the account.
Ledger Name: - Select the ledger name. It is includes accounts for Assets, Liabilities, Owners' equity, Revenues and Expenses.
And select from date and to date between which dates you want to view the transaction.
Click 'OK' key to display the records for that particular date.
Here show the Date, Module (RE:- Receipt, PA:- Payment, CO:- Contra), Entry No., Remarks, Debit, Credit, and Balance.
When you want close this module press close button.