---
Room Check-out
Check Out Format. Enter the Room Number to check-out. If the room Check-out is Group Check-out the Select the Check-out Multiple Rooms, then select the room numbers from the list.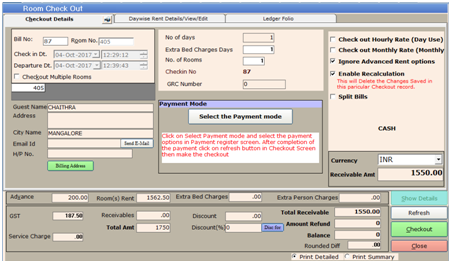 Click Show Details, It will automatically show you the guest details and rent amount details. Here you can able to modify the number of extra bed charges Days. And for recalculation press refresh Button. Even you can see the Day wise Rent details/view/Edit and ledger folio Details in the same screen.
Select the mode of payment, and fill the respective fields.
Handling Credit Bills: The credit bills can be handled in Guest Check-out bill. To make Credit bill, In Payment module select the Payment type as Credit. Then Create or add a party ledger account to hold the amount.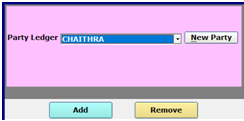 Then, confirm the party ledger and proceed for the check-out.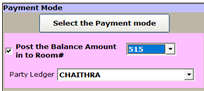 Any cases, the guest want to post the check out amount to other room, there is an option make a tick mark on the post the balance amount in to room and select room number from drop down list and proceed for the check-out.
Once the payment mode is selected, in Check-out module you have to click on Refresh Button, This step will required to reflect the Pay mode in Check-out bill.
How to Check Out the Room