---
List of income and expenditure
Income and Expenditure Account is prepared in the following manner: Exclude the opening and closing balance of receipt and payment account. Exclude all the payment items. Exclude all revenue items relating to last or next year.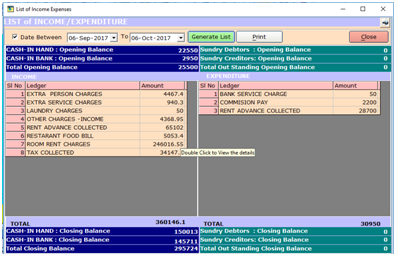 Here is the list of income and expenditure separately in columnar form.
The entry which are created in receipts, payment, journal and voucher entry form are shown here.
You select the date for particular period that necessary for you.
And you will find opening balance and closing balance of cash in hand, cash at bank, sundry debtors and sundry creditors for the specified date you need.
You can take a print of these lists for the selected transaction.
And close the screen by close button.