---
Salary processing is the module for Calculate the salary as defined parameter.
Steps involved in Salary processing.
Step 1: Select the pay method from "Salary Statement of"
Step 2: Select the date you want to calculate salaries.
The employee list showing list of employee assigned to selected category of Pay method.
Step 3: Select and Check mark which are the employee to be consider for calculation.
Step 4: After Selection of Employee Click on "Process for Selected Employee" Button.
Once Completed a message showing "Done"
Step 5: Click Employee name to see the calculation details.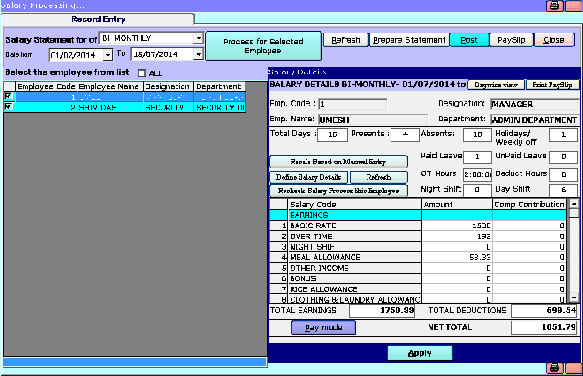 Adjustment in Calculation:
In Employee wise salary calculation sheet some options are available. Using that Calculated entry can be altered and Recalculate based in manual alteration.
The Salary amount grid you can manually type to alter the amounts the click on Apply to save the entry.
If Salary Calculation based on number of hours or number of days then click Day wise view button to see the calculation sheet. Re click same button to close the screen.Double click on this screen entry it will navigate you to Attendance approval module.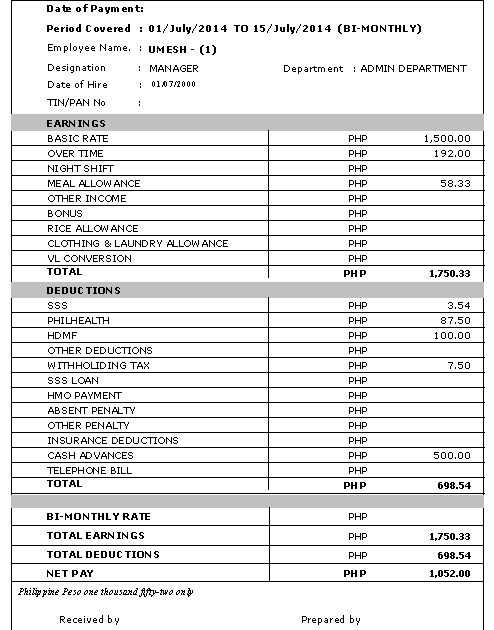 Payslip showing all Salary components .
Paymode: Select the paymode of Salary payment it is applicable only if payment made other than cash.
If you want remove the Calculated Salary details for selected period then Click on admin-> reset Salary data. This feature available only authorized users.
Prepare Statement: This is the Statement generation screen



Here detailed checked to show the present, absent days in report.
Click Print to Export report to excel.